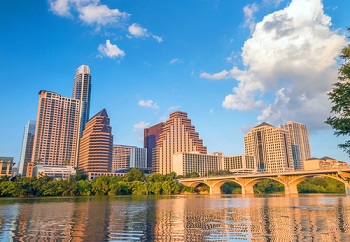 It's difficult to find a reason not to love Austin. Natural beauty, arts and cultures, recreation activities galore, great weather and a booming economy -- Austin seems to have it all. Austin is the state capital of Texas, the heart of the Silicon Hills high-tech region, and home to the University of Texas Longhorns. It's the Live Music Capital of the World, the proud bearer of the Keep Austin Weird slogan to promote local businesses, and the setting for the annual South by Southwest Music, Film and Interactive conferences.

And that's just the beginning. There's also the seven-mile Barton Creek Greenbelt running through the center of town, offering hiking, mountain biking, trail running and rock climbing on your lunch break A burgeoning foodie scene has dished up national attention. And with several lakes in the immediate area, it's a boater's paradise. No wonder Austin consistently tops lists of the most vibrant, livable and booming cities in the U.S. Read more about Austin upscale neighborhoods.
Austin is simply a great place to call home. The city offers a wide range of neighborhoods and home to fit any lifestyle. From lakeside estates to historic urban cottages to gleaming downtown condos you can find it all right here.
Featured Austin Luxury Communities